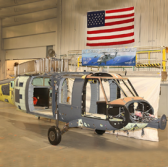 Lockheed Martin's Sikorsky subsidiary has moved forward to the final assembly phase of a combat rescue helicopter under a potential $1.5 billion contract from the U.S. Air Force.
Lockheed said Tuesday the current assembly schedule for the first HH-60W Combat Rescue Helicopter will allow the company to deliver the aircraft to USAF for an initial flight operation two months earlier than previously estimated.
The HH-60W unit is the first of four helicopters that Sikorsky will build through the program's engineering and manufacturing development phase.
Sikorsky will also manufacture five system demonstration test articles for the service branch.
Final assembly tasks will include the installation of a tactical mission kit comprised of sensors, radar and multiple defense systems and a new fuel system.
USAF also ordered six aircrew and maintenance training devices as well as instructional courseware through the EMD and SDTA contract.
Sikorsky reviewed the design of the training systems in September.
The service branch looks to acquire 112 helicopters to replace its HH-60G Pave Hawk fleet used to support military combat search-and-rescue and personnel recovery missions.