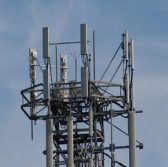 Intelsat and SES have jointly proposed to the Federal Communications Commission to protect the delivery of data and video connectivity and other satellite services in the C-band 3700-4200 megahertz downlink spectrum.
The companies said Friday the proposal also aims to establish a technical and commercial framework that seeks to provide wireless operators access to approximately 100 MHz of the C-band spectrum in the U.S. to help speed up the deployment of 5G services.
The joint proposal also seeks to establish a consortium of C-band satellite operators that will work to implement the spectrum clearance processes and act as a channel for market-based transactions with entities that seek to field terrestrial mobile services in some portions of the C-band spectrum.
Karim Michel Sabbagh, SES president and CEO, said the proposed consortium will also help broaden the C-band ecosystem in the U.S. in order to safeguard hundreds of services delivered by satellite operators in the spectrum as well as accelerate the deployment of 5G terrestrial services.
Intelsat and SES will also work with Intel to advance the proposal.