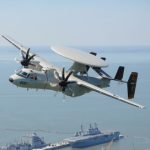 The U.S. Navy and the U.S. Marine Corps have submitted to Congress their fiscal 2019 "unfunded priority lists" that requested $1.7 billion in total funds to support projects that were not included in the official budget request, USNI News reported Tuesday.
The Navy seeks $1.5 billion for its budget wish list that includes the procurement of two Northrop Grumman-built E-2D Advanced Hawkeye early-warning radar aircraft worth approximately $340 million; 10 more Lockheed Martin-built long range anti-ship missiles worth $30 million; 48 Boeing-made Harpoon Block II+ anti-ship missiles valued at $12 million.
The service branch looks to allocate $171 million for public shipyards, $46 million for Raytheon"™s AIM 9-X Block II Sidewinder anti-air missiles and $95.4 million for cyber boundary defense initiatives.
The Marines aims to invest $235.9 million in military construction projects for the next fiscal year.
Those construction efforts include $71.1 million for a consolidated warehouse and mess hall; $13.1 million to support upgrades to an ammunition supply point at a base camp in Quantico, Virginia; $31.9 million for a welding facility at an installation in Albany, Georgia; and $6.3 million for a cryogenics facility in Beaufort, South Carolina.