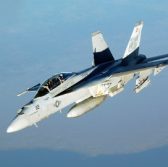 Boeing is in discussions to sell its F/A-18 Hornet fighter aircraft to the Indian navy, Bloomberg reported Monday.
Gene Cunningham, vice president of Boeing's defense, space and security business, told reporters at the Singapore Airshow that Boeing and India have yet to conduct technical evaluations to advance the potential sale.
Cunningham added that the defense contractor also eyes opportunities for its KC-46 Pegasus multirole tanker in India and other nations.
In January, India's defense ministry approved a proposal to acquire a training system and associated maintenance services for the P-8 Poseidon maritime aircraft from Boeing under a potential $307.5 million contract.
The Indian navy issued a request for proposals in 2017 for 57 fighter jets for its aircraft carriers, while the country's air force wants approximately 100 planes, the report noted.