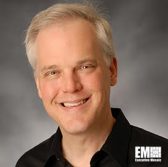 David Egts, chief technologist for Red Hat's public sector, told MeriTalk in an interview published Wednesday that lift and shift, augment with new layers and rewrite are three approaches government agencies and companies can adopt to modernize aging applications.
He said the effectiveness of the approaches depends on the application, contextual factors and business and that agencies should work with system integrators that help execute those three app migration approaches.
The lift-and-shift method works to help organizations field and run existing applications on a modern platform in order to provide information technology teams time to modernize the apps, according to Egts.
He noted that the augment-with-new-layers approach involves the use of existing app functionality to develop new services and apps, while the rewriting process calls for the creation of a new functionality to retire legacy apps.
Egts added that agency leaders may consider the microservices concept meant to facilitate the continuous deployment of complex and large applications.