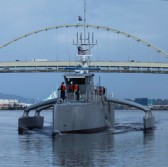 The U.S. Navy plans to design a new unmanned surface vehicle that will build on the Defense Advanced Research Projects Agency's Anti-Submarine Warfare Continuous Trail Unmanned Vessel program, Inside Defense reported Monday.
The service branch has requested $2.8 million to produce a medium displacement USV concept beginning in fiscal 2019's first quarter and conduct an analysis of alternatives starting in fiscal 2020's second quarter.
A Leidos-led team helped DARPA build the Sea Hunter ACTUV and the agency officially transitioned the platform to the Office of Naval Research in late January.
The report noted that latest Navy budget documents state that an MDUSV platform is an "ideal candidate for an accelerated acquisition approach."