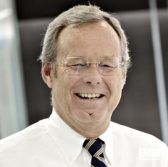 Mike Lawrie, chairman, president and CEO of DXC Technology, has said the company saw a 13 percent growth in its cloud business during the third quarter of fiscal 2018 that ended Dec. 31, CRN reported Friday.
Lawrie told analysts Thursday that DXC has introduced five centers worldwide to advance digital transformation efforts and experienced progress in the development of the firm's digital business group.
"In our pilot accounts, we increased the digital pipeline by 30 percent, and created several new opportunities valued at more than $200 million each."
He noted that DXC has expanded its security consulting capabilities through the launch of ransomware consulting diagnostic and access management-as-a-service offerings designed to help clients address cyber threats.
DXC has begun to build up workforce productivity through automation and launched several efforts to optimize nonlabor spending through demand management, vendor consolidation and other initiatives as parent companies Computer Sciences Corp. and Hewlett Packard Enterprise's enterprise services division continue their integration, Lawrie said.
He added that the pending merger of DXC's U.S. public sector business with Vencore and KeyPoint Government Solutions is now anticipated to close by late May.