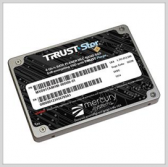 Mercury Systems has introduced a multilevel cell solid-state drive technology designed for rugged military environments.
BuiltSECURE TRRUST-Stor features Mercury Systems' ARMOR 4 NAND processor and a multilevel cell flash technology built in a 2.5-inch form factor enclosure, the company said Tuesday.
The SSD architecture is designed to withstand mechanical shock and vibration conditions that are common in military deployment areas.
Mercury Systems developed the technology to process data at one gigabyte per second and transmit information over a temperature range of -40 to +85 degrees Celsius.
The company noted its SSD offering holds certification of Federal Information Processing Standard 197 compliance for the technology's 256-bit encryption that uses the XTS block cipher mode.