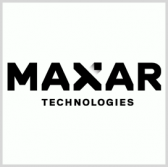 AÂ Maxar Technologies subsidiary has received a $6.36 million contract from Canada's department of national defense to provide miniature maritime unmanned aircraft systems to the Canadian navy.
The company said Tuesday its MDA subsidiary will also help DND develop training, equipment and resource as well as validate naval tactics and new capability development efforts under the contract.
MDA will produce MMUAS based on Aerovironment's Puma AE unmanned aircraft platform built to perform intelligence, surveillance and reconnaissance missions.
MMUAS is designed to fly beyond the visual line of sight capacities and extend the coverage of communication and sensor systems in maritime security operations.
The Canadian navy aims to begin deployment MDA's platform on Kingston-class naval vessels this summer.
MDA has provided UAS systems and services to DND since 2009.