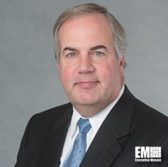 Matt Desch, CEO of Iridium Communications, has said the company is likely to launch on March 29 the fifth batch of 10 Iridium NEXT satellites aboard a SpaceX-built Falcon 9 rocket, SpaceNews reported Monday.
Desch, a 2018 Wash100 recipient, added the company expects subsequent launches to occur every five to six weeks to complete the Iridium NEXT satellite constellation.
The sixth launch will bring into orbit five Iridium NEXT satellites and two Gravity Recovery and Climate Experiment Follow-On satellites for the U.S. and Germany.
Desch noted he believes the Defense Information Systems Agency could renew its connectivity contract with Iridium in 2018 or 2019 if DISA decides to exercise an option for a six-month extension in the contract.
The five-year DISA contract is valued at approximately $400 million and is set to expire this year.
Iridium recorded $448 million in total revenue and $233.9 million in net income in calendar year 2017 that ended Dec. 31.
The company also reported a 23 percent increase in commercial subscribers driven by the adoption of internet-of-things-based devices and connected sensors, the report added.