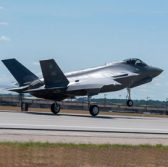 Lockheed Martin will move to implement an anti-collision technology into the F-35 aircraft in an effort to help fighter pilots avoid controlled flight into terrain.
The F-35 Joint Program Office, Lockheed and the Air Force Research Laboratory confirmed that the Automatic Ground Collision Avoidance System is ready to enter a rapid integration phase with the fighter aircraft fleet, the JPO said Tuesday.
Auto-GCAS is designed to perform automatic recovery maneuver that would prompt the pilot to take evasive action or engage autopilot to divert the plane when no action is taken.
The system will also work to detect imminent impact by comparing global positioning system and system altitude with an onboard Digital Terrain Database.
"Expediting this lifesaving technology into the F-35 fleet by 2019 is estimated to prevent the loss of three aircraft, and more importantly, save the lives of three pilots," said U.S. Navy Vice Adm. Mat Winter, F-35 program executive officer.
"Over the service life of the F-35 fleet, having Auto-GCAS is estimated to prevent more than 26 ground collisions from happening," Winter added.
F-35s are currently equipped with the Manual Ground Collision Avoidance System that warns a pilot of an imminent ground crash, but the pilot must be able to see, hear, process and heed the system's warning.
The Air Force Research Laboratory initially developed and tested Auto-GCASÂ for installation on F-16s three years ago.
Integration of the system into the fifth-generation aircraft is part of the multinational F-35 program's modernization, enhancements and improvement programs.