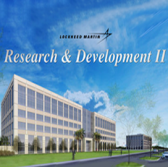 Lockheed Martin has invested $50 million to build a new office building in Orlando, Florida, as part of the defense contractor's expansion efforts.
The company said Wednesday it broke ground on the 225,000-square-foot Research & Development II facility and plans to recruit up to 1,800 workers over the next two years, 500 of whom will occupy the Orlando office.
Frank St. John, executive vice president of Lockheed's missiles and fire control business, said construction of the building underscores the company's efforts to produce technology platforms for U.S. and international customers.
Future employees at the facility will support R&D, program management and engineering operations of the MFC business that specializes in combat, missile, rocket, manned and unmanned systems.
Lockheed's MFC facility builds technologies in the areas of advanced materials, millimeter wave radar, electronic packaging, image and signal processing, large system integration and electro-optics.