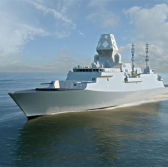 BAE Systems has selected L3 Technologies to develop an integrated platform management system as a member of BAE's industry team pursuing the potential $27.4 billion SEA5000 Future Frigate construction program in Australia.
L3 said Sunday it will provide IPMS along with controls and instrumentation tools for the nine Type 26 Global Combat Ships that BAE proposed to build for the Australian navy.
Rangesh Kasturi, president of L3's marine, power, space control and simulation business, said the IPMS offering is similar to those featured in 200 naval ships across 22 different naval forces worldwide.
IPMS is designed to help users monitor and manage warship propulsion, electrical, auxiliary and damage control machinery, systems and functions.
The system employs L3 MAPPS technology developed in Canada and U.K.
Australia's federal government is expected to award the contract in April or May.