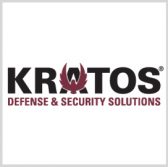 Kratos Defense and Security Solutions has demonstrated new updates and enhancements to its aerial drone system during a series of flight test missions.
The tests aimed to evaluate the updated drone's capacity to support customers and their missions worldwide, Kratos said Thursday.
Kratos President and CEO Eric DeMarco said the company aims to showcase its portfolio of jet-powered unmanned aerial drones that are designed to help domestic and international clients address missions.
"We are currently working toward a large production contract with a new international customer which we hope to receive in the next several months," DeMarco added.
The company designed its drone offerings for tactical and threat representation use.