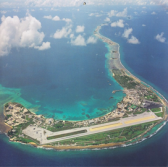 Johnson Controls' federal systems business has signed a $40 million energy savings performance contract with the U.S. Army Engineering and Support Center to help implement energy conservation measures at a military base located in the Marshall Islands.
The company said Thursday it will design, implement and manage an islandwide solar photovoltaic, lithium-ion battery storage and microgrid control system at Army Garrison Kwajalein Atoll.
Johnson Controls will also install light-emitting diode systems designed to help the service branch reduce lighting energy costs at the base by 64 percent.
The company intends for the solar PV/battery storage to help reduce diesel consumption on Meck Island, which is part of the Kwajalein Atoll, by 55 percent.
The Army expects to save more than $2.2 million per year through the ESPC contract.
Johnson Controls added its distributed energy storage team built an integrated battery system that the Defense Department can replicate.