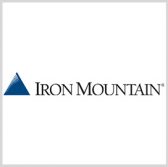 Iron Mountain has opened a facility in Suitland, Maryland, that is built to store records for federal customers and comply with National Archives and Records Administration  standards.
The company said Monday its new 125,000-square-foot federal records facility is close to Joint Base Andrews and has approximately 1.5 million cubic feet of storage.
Michael Lewis, vice president and general manager of Iron Mountain's government solutions business, said the company aims to help federal clients store and access information through a secured facility.
The Suitland location is designed to have six NARA-compliant storage chambers and serve civilian agencies, defense organizations and government contractors that operate around the Washington, D.C. region.
The new facility is equipped features include a 24-hour central station monitoring system, an alarmed system entry, fenced truck access areas, a gate requiring security card activation and interior and exterior steel doors.
Iron Mountain recently secured contracts to provide records storage services to the U.S. Patent and Trademark Office and the Federal Bureau of Prisons.
The company's Secure eWaste and Information Technology Asset Disposition offering is also available to government agencies through the General Services Administration's Schedule 36 contract vehicle.