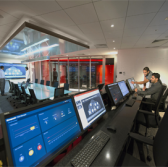 ​Honeywell has opened a facility in Dubai, United Arab Emirates that will function as a test environment for network systems and a cyber defense training ground.
The company said Tuesday its industrial cybersecurity center of excellence seeks to help customers address potential vulnerabilities and threats in process control networks as well as to train clients on attack simulation.
The CoE is built to also support Dubai government's strategy to bolster cyber defense efforts amid increasing digital transformation of companies.
Honeywell equipped the facility with control systems, physical plant process, networking equipment, analytical tools and cybersecurity software.
Jeff Zindel, vice president and general manager of Honeywell's industrial cybersecurity for critical infrastructure and industrial internet of things business, administered the center's inauguration during an event held Tuesday.
The center showcases company-built security offerings such as the Risk Manager, Secure Media Exchange and ICS Shield.