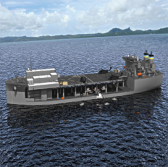 General Dynamics' NASSCO subsidiary has officially transferred a second Expeditionary Sea Base platform to the U.S. Navy.
The Military Sealift Command will operate the USNS Hershel "Woody" Williams (ESB 4) ship that NASSCO constructed at a San Diego shipyard, the Naval Sea Systems Command said Thursday.
ESB 4 is named after a U.S. Marine Corps veteran who received the Medal of Honor for his actions during the Battle of Iwo Jima.
The ship will support maritime-based special operations force, command and control, humanitarian, airborne mine countermeasures and military missions.
ESBs are designed to have aviation facilities, equipment staging support, berthing and C2 systems.
NASSCO is also building the Navy's third ESB ship USNS Miguel Keith.