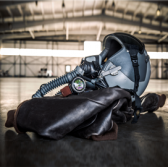 The U.S. Air Force has selected Garmin's international unit to supply aviator watches for pilots of the Lockheed Martin-built U-2 reconnaissance aircraft.
Garmin said Wednesday its D2 Charlie aviator watch is designed to serve as a back-up navigation system in the cockpit through the delivery of global navigation support, moving maps and other features.
The company expects the Air Force to order more than 100 D2 Charlie aviator watches for a specialized pilot group that flies U-2 planes.
D2 Charlie is designed to operate at up to 70,000 feet and provide barometric-based O2 alerting, flight information, global positioning system features and the option to build or update flight plans.
The device also supports integration with the Garmin Connect mobile application to show flight plan information and progress.
D2 Charlie includes the Garmin Elevate technology that tracks pilots' heart rate and daily activities such as running, golfing, cycling, swimming and skiing.