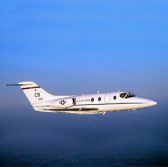 Field Aerospace has won a potential $18.5 million contact to update the avionics suite of 208 T-1A Jayhawk aircraft and trainers for the U.S. Air Force.
USAF asked the company to replace avionics of 16 flight trainers, 14 part task trainers and 178 standard aircraft in the service branch's T-1A fleet, the Defense Department said Wednesday.
The AF Life Cycle Management Center received eight offers for the firm-fixed-price contract via a competitive procurement and will obligate the full contract amount at the time of award.
Field Aerospace will perform work at various locations in Oklahoma, Texas, Mississippi and Florida through Aug. 14, 2025.
T-1A Jayhawks are used to aid tanker or airlift mission training as well as to support navigator training of U.S. and international military services.