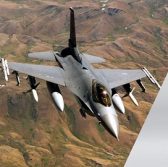 A joint venture between Elbit Systems' America business and Rockwell Collins' ESA Vision Systems subsidiary has received a task to integrate a helmet-mounted display system to F-16 aircraft within South Korea's air force.
The Joint Helmet Mounted Cueing System IIÂ will be configured to provide situational awareness and identification display on friendly, enemy and unknown targets for day and night operations, Elbit said Wednesday.
The system integrates night vision goggles with a digital eyepiece to alternate between day and night modes.
Pilots will also have direct control over the aircraft's sensors and targeting systems through the use of the helmet system.
The JHMCS is compatible for use with F-15, F-16 and F/A-18 aircraft.