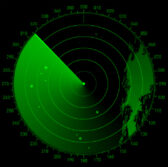 The Defense Advanced Research Projects Agency has partnered with Systems and Technology Research and Applied Physical Sciences to build a phased-array sonar technology compatible with unmanned naval vessels, Military & Aerospace Electronics reported Monday.
Sonars to result from the project are expected to be installed on small underwater and surface vessels, as well as on surveillance systems deployed on the ocean, the report noted.
Contracts for the effort were awarded under the Tactical Exploitation Of The Acoustic Channel program that aims to establish a network of distributed sonars forming one coherent signal.
The program also seeks to form an alternative method for underwater phased-array sonars, to eliminate the traditional need for complicated wiring and deployment procedures.
Phased-array sonars are designed to electronically change the direction of radio waves without requiring physical antenna movement.