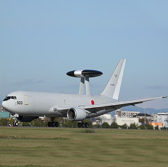 Boeing has secured a potential $60.9 million contract from the U.S. Air Force to support installation and checkout of a mission computing upgrade to Japan's airborne warning and control systems aircraft.
The company will install and inspect the upgrades for four Japanese E-767 aircraft and related ground systems, the Defense Department said Monday.
USAF awarded Boeing a $403 million contract modification in 2015 to provide AWACS modernization and ground support services to Japan through the foreign military sales program.
DoD expects the company to complete work under the latest contract by Dec. 31, 2022.
The department noted that Japanese letter of offer and acceptance case funds amounting to $56.9 million will be obligated at the time of award.