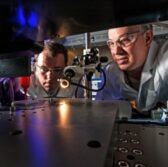 Boeing and Switzerland-based technology and engineering firm Oerlikon have agreed to collaborate on the development of standard metal-based 3D printing processes and materials.
The companies will use the data from their collaboration to help additive manufacturing companies qualify their 3D-printed metallic components for aerospace applications under a five-year agreement, Boeing said Tuesday.
"This agreement is an important step toward fully unlocking the value of powder bed titanium additive manufacturing for the aerospace industry," said Leo Christodoulou, chief technologist at Boeing.
Christodoulou added the partnership with Oerlikon will help advance the standardization of powder management and other additive manufacturing processes as well as facilitate the development of various 3D-printed structural titanium aerospace components.
Oerlikon and Boeing will also work to industrialize the titanium powder bed additive manufacturing process and ensure the parts developed through the process meet the Defense Department's and the Federal Aviation Administration's flight requirements.
Boeing has approximately 50,000 3D-printed components used aboard space, defense and commercial aircraft programs.