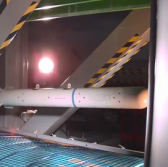 BAE Systems, Harris and MBDA's U.K. business have collaborated on ground-based tests that sought to demonstrate the release of a full-sized payload from an aircraft cargo bay.
A team of engineers used BAE's test facility in Warton, England, to conduct full-scale ground trials in an effort to better understand the aircraft bay environment, the British defense company said Thursday.
BAE noted that unloading a weapon or store from an aircraft weapons bay at high speeds can damage the payload and the aircraft's structural integrity, and would require operators to quickly open and close bay doors.
The industry team carried out a high subsonic release of a store from a bay to confirm that the carriage system can withstand the severe environment created by high speeds.
The alliance will use data from the trials in efforts to optimize the design of payload bays that will carry weapons, fuel tanks or sensor systems on future aircraft.
BAE and its partners also plan to incorporate the data into design and qualification methods.