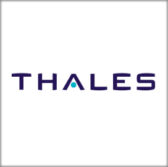 Australia has awarded Thales a potential $941 million contract to deploy an air traffic control platform as part of the OneSKY program.
The OneSKY project seeks to integrate military and civil airspace as well as advance the modernization of Australia's oceanic airspace in an effort to ensure aviation safety and flight coordination, Thales said Monday.
Patrice Caine, president and CEO of Thales Group, said the company will leverage its big data, cybersecurity, artificial intelligence, connectivity and other digital technology capabilities to facilitate the deployment of OneSKY that aims to manage 11 percent of the world"™s airspace.
Thales said it will collaborate with the Australian government, Airservices Australia and the country"™s defense force on the OneSKY project.
The OneSKY program is expected to support approximately 450 jobs in Melbourne, Australia, and 50 positions in France.