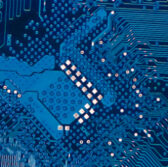 The Air Force Research Laboratory has collaborated with a public-private manufacturing consortium to create operational prototypes of a circuit board system in efforts to accelerate the development of smart technologies.
AFRL said Thursday it worked with NextFlex: America's Flexible Hybrid Electronics Manufacturing Institute to develop Arduino integrated circuit systems that are designed to be programmed through open-source software.
NextFlex is formed through a cooperative agreement between the Defense Department and FlexTech Alliance with the goal to advance FHE manufacturing processes.
Arduinos are designed to integrate with flexible and wearable devices used in various applications such as monitoring hydration status, glucose levels and heart rate.
Benjamin Leever, head of AFRL's advanced development team, said Arduinos can help inventors within and outside the Air Force to "quickly demonstrate new flexible electronics concepts."
"This technology may enable us to monitor the structural integrity of aircraft through sensors embedded in the wings or similarly monitor the real-time performance and health of an Airman through flexible sensor patches," he added.
Leever noted he believes the use of an open-source platform to manufacture Arduino can widen the reach of FHE and give everyone an opportunity to build on new electronics technologies.
NextFlex will showcase a working sample of the Arduino system at the three-day 2018FLEX Conference that will kick off Monday in Monterey, California.