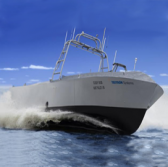 Textron and the U.S. Navy have entered an agreement to integrate anti-surface weapons into the service branch's unmanned surface vehicle, USNI News reported Tuesday.
The team would develop and install surface warfare payloads onto the Common Unmanned Surface Vehicle as part of the cooperative research and development agreement.
Payloads will include missiles, designators, sensors and remote weapon stations, the report said.
The Textron-built CUSV currently supports maritime patrol and critical infrastructure security missions such as mine countermeasure efforts.
CUSV was originally built as part of the Littoral Combat Ship's mine countermeasure package to tow the Navy's Unmanned Influence Sweep System, which works to emit signals that cause mines to detonate.
Wayne Prender, senior vice president of control and surface systems at Textron's Textron Systems business, told USNI News that he believes CUSV can perform missions beyond mine countermeasures due to its open modular payload bay.