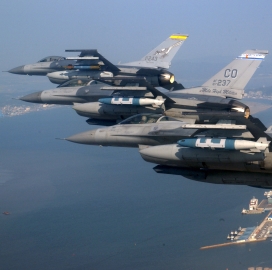 The State Department has approved Oman's request to procure items and services for an incremental F-16 software upgrade program under a potential $62 million foreign military sales agreement.
Oman asked to buy equipment and services needed to update the Operational Flight Profile software for F-16 subsystems, as well as Mode 5 identification friend-or-foe and secure communications platforms for the country's 23 F-16s, the Defense Security Cooperation Agency said Friday.
The proposed deal will also cover test equipment; spare and repair parts; publications and technical documentation; training and training equipment; engineering; and other logistics and program support services.
DSCA noted the sale will build on the partnership and interoperability of U.S. and Omani military forces.
Oman's F-16 planes currently use Mode 4 IFF and will be able to operate on Modes 4 and 5 as a result of the potential FMS purchase, the agency added.
Lockheed Martin will serve as prime contractor of the possible sale, which will not require the deployment of additional U.S. government or contractor representatives to Oman.