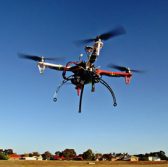 Reportlinker has released a forecast study that the global drone market will grow to reach $16.7 billion in 2022.
The predicted growth stems from the increase of drone demand for military and commercial use, and the continuing regulatory efforts on drones, the research firm said Thursday.
Drone-producing firms are continuously making technological advancement efforts that may lead to fuel growth within the forecast period covering 2012 to 2022, the report said.
Major industry players mentioned in the report include Aerovironment, Lockheed Martin, Boeing, General Atomics and Northrop Grumman.
The full report can be purchased here.