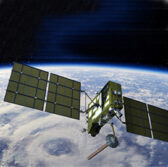 U.K.-based spacecraft technology developer Effective Space has received a contract to perform in-orbit satellite servicing support for an unnamed regional operator, Via Satellite reported Wednesday.
Effective Space will launch two Space Drone servicing spacecraft in 2020 to conduct station-keeping and attitude control support for two communications satellites.
Daniel Campbell, managing director at Effective Space, told Via Satellite that operators are looking for ways to delay the replacement of their satellite constellations.
"A solution that can extend existing assets in space is something that is getting a lot of attention in today's market," Campbell added.
The less than 880-pound Space Drone is designed to serve multiple customers on multiple missions throughout its 15-year lifespan.
Campbell noted that the spacecraft can potentially perform operations such as active debris removal and deorbiting since its relatively low mass provides the capacity to travel across multiple orbits.
Effective Space also offers launch service providers an option to orbit Space Drone on a rideshare mission.