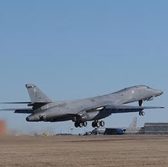 Marvin Test Solutions is part of a BAE Systems-led industry team that won a potential $64.5 million contract to design and build a common armament testing platform for U.S. Air Force bomber aircraft.
The team will produce the Bomber Armament Tester for the service branch to evaluate B-1B, B-2A and B-52H weapons and equipment such as bomb ejector racks, rotary launchers and pylon assemblies, MTS said Wednesday.
The contract awarded in September covers engineering and manufacturing development of 90 BATs.
MTS will supply hardware and software as well as provide design support for the core BAT testing system.
Stephen Sargeant, CEO of MTS, said the company's previous experience in the development of military and aerospace tests platforms as well as portable armament test sets helped the company secure a position on the BAT program.
Contract work will primarily take place at BAE facilities in California and Texas over the next nine years and deliveries will occur in three increments.