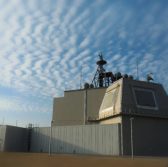 Lockheed Martin has integrated its solid state radar platform with the Aegis Ashore system in an effort to demonstrate the capability of the combined systems to detect and counter ballistic missile threats.
Tony DeSimone, vice president and chief engineer at Lockheed"™s integrated warfare systems and sensors, said in a statement published Thursday the combination of SSR and Aegis Ashore seeks to provide warfighters with "expanded situational awareness" and intelligence.
Lockheed"™s SSR is a gallium nitride-based building block of the Long Range Discrimination Radar designed to provide target acquisition, discrimination and tracking data to the country"™s ballistic missile defense platform.
LRDR is on schedule to begin operations in Alaska by 2020 following the completion of the platform"™s critical design review in November 2017.
Aegis Ashore is the Aegis Combat System"™s ground-based component that is now available in Romania and is expected to be deployed in Poland.
The configuration of SSR with Aegis Ashore facilitated the transmission of command tasks and target tracking data as well as the detection of long-range targets during the demonstration.
Lockheed said it plans to conduct missile engagement simulations and live tracking demonstration in the first half of 2018.