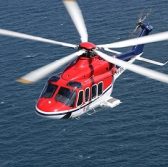 A global fleet of 900 Leonardo-built AW139 intermediate twin engine helicopters deployed in 80 countries has tallied more than two million flight hours across various operational missions conducted in five continents.
Government, military and commercial operators used AW139s to conduct law enforcement, homeland security, patrol, disaster relief, military, firefighting and transport missions, Leonardo said Wednesday.
The feat was surpassed approximately three years after the aircraft fleet recorded its first million flight hours.
AW139 is designed to integrate with customized technologies such as the Limited and Full Icing Protection Systems and the Obstacle Proximity Lidar System.
Leonardo noted the latest milestone represents the design, quality and performance of the helicopter platform as well as the company's capacity to provide services and support packages for clients worldwide.
The company also updated the supportability of the platform through the Service Excellence initiative that sought to reduce the maintenance time for AW139 by at least 30 percent.
More than 13,000 pilots and technicians have also been trained throughout 150,000 AW139 simulator-hours since 2004, Leonardo added.