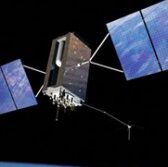 A division of Kratos Defense and Security Solutions has received a $13.9 million contract modification to help the U.S. Air Force produce and sustain a command and control system military satellite communications satellites.
The Defense Department said Friday the service branch exercised an option under a previously awarded contract for Kratos' technology and training solutions business to maintain the C2 platform that currently supports military satellite telemetry, tracking and command functions.
Services covered by the exercised option are mission activity and maneuver planning, telemetry processing, commanding, orbit and attitude management, resource management, simulation of space vehicle and ground system, security, support planning and implementation, training and testing.
Work will also involve support for satellite state-of-health operations such as launch, early orbit, on-orbit, anomaly resolution, disposal and backup operations.
Kratos will perform the services in Colorado Springs, Colorado and at the Vandenberg Air Force Base in California through Sept. 30, 2018.
The service branch is obligating $3.9 million in fiscal 2018 operations and maintenance funds at the time of award.