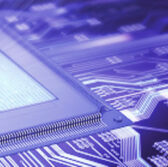 The U.S. Air Force Research Laboratory expects to receive a neuromorphic supercomputer system from IBM in the summer to support the lab's deep neural-network learning and information discovery tasks, Signal Magazine reported Monday.
The machine will feature IBM's TrueNorth Neurosynaptic System along with an end-to-end software ecosystem, pattern recognition and sensory processing tools.
AFRL and IBM formed a partnership in June of last year to develop a computing system that would combine model and data parallelism capacities with "left-brain" processing and "right-brain" perception functionalities.
"Neuromorphic computing, hardware, software and systems inspired by the working mechanism of the human brain can achieve at least three orders of magnitude size, weight and power improvement over conventional computing architectures and algorithms," Daniel Goddard, director of AFRL's information directorate, was quoted as saying.
IBM originally developed TrueNorth with Cornell University through a Defense Advanced Research Projects Agency-backed program.
The system is designed to help users convert audio, image, text and video data into symbols in real time.