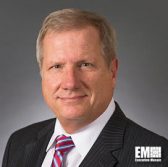 Rick Lober, vice president and general manager of Hughes Network Systems' defense and intelligence systems division, has said the Defense Department leadership should adopt the tenets of commercial satellite technology procurement to transform the way DoD acquires space hardware.
He wrote in an opinion piece published Tuesday on Defense News that he believes department-industry collaboration is the "only viable option" to update requirements and accelerate buying process for military space technology platforms.
"DoD needs to understand the difference between buying a communications system and buying an aircraft carrier "" one acquisition process does not fit all," Lober added.
He noted that both U.S. Air Force Secretary Heather Wilson and Gen. John Hyten, head of the U.S. Strategic Command, called for an agile approach to address communications and satellite systems procurement challenges at the department.
"Our warfighters depend on DoD leaders to accept the reality of commercial innovation and use it to the U.S."™ advantage," Lober said.
"They deserve more effective decision-making about technology to help successfully reach their mission goals and, overall, maintain U.S. space dominance."