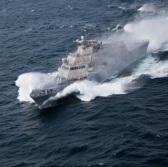 Lockheed Martin has selected Gibbs & Cox to support functional design work on a  multi-mission surface combatant platform for Saudi Arabia.
Gibbs & Cox said Wednesday that Saudi Arabia's navy chose an MMSC offering that Lockheed based on the Freedom-variant littoral combat ship in a bid to help the service branch confront maritime and economic security threats.
Lockheed closed a potential $6 billion deal in May 2017 to build and deliver four MMSC ships to Saudi Arabia.
MMSC will be designed to feature a combined diesel and gas propulsion system and operate at a range of up to 5,000 nautical miles at a speed of more than 30 knots.
Chris Deegan, president and CEO at Gibbs & Cox, said the selection extends a long-standing partnership between Lockheed and Gibbs & Cox to a new customer and derivative.
"G&C's 85 years of surface combatant design experience has supported many of the world's navies via foreign military sales," Deegan added.