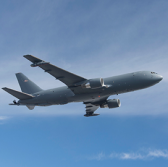 Gen. Carlton Everhart, head of the U.S. Air Force's Air Mobility Command, has said that the Boeing-built KC-46 tanker aircraft is slated to obtain approval for its military equipment, Military Times reported Thursday.
Everhart told Air Force Times during a visit to Boeing's Washington state facility that the company and the Federal Aviation Administration could finish the required processes to secure a supplemental type certificate for KC-46 "in the next 60 to 70 days."
STC, the second of two FAA certifications the KC-46 program must achieve, would validate military systems that are installed on the 767-2C airframe to turn it into a tanker.
Boeing received an amended type certificate from FAA in December 2017 for 767-2C, a version of the company's 767 commercial aircraft that serves as the base of KC-46.
Everhart added that he expects Boeing to complete necessary tests for STC within a month, then submit data to FAA for another month of processing before the agency issues the certificate.
The Air Force plans to purchase 179 KC-46 planes and Boeing is scheduled to deliver the first 18 tankers by October.