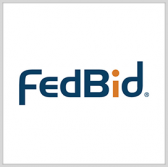 Compusearch Software Systems' FedBid subsidiary has secured a potential five-year contract to provide the U.S. Navy access to an online technology platform for buying multiple commodity goods and services.
FedBid said Tuesday the service branch will continue to use the company's commercial e-commerce portal that is designed to comply with the Federal Acquisition Regulation and Defense FAR Supplement.
The contract also includes sourcing assistance and quality assurance services to the Navy.
Navy acquisition personnel have awarded contracts worth more than $500 million combined to multiple vendors via FedBid's online marketplace and 78 percent of the awards were issued to small businesses.
The service branch has saved more than $70 million through its partnership with FedBid compared with the initial independent government cost estimates, the company noted.