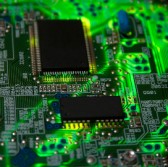 The Defense Advanced Research Projects Agency and an industry consortium have selected six university research centers to conduct research efforts that seek to address challenges related to microelectronic technologies under a potential five-year, $200 million cost-sharing program.
Linton Salmon, manager of DARPA's Joint University Microelectronics Program, said in a statement published Wednesday JUMP and the six centers will conduct research and build microelectronics platforms for the Defense Department in support of national security efforts over the 2025-2030 timeframe.
The six research centers include:
Applications and Systems-driven Center for Energy-Efficient Integrated Nanotechnologies
Applications Driving Architectures Center
Center for Brain-inspired Computing Enabling Autonomous Intelligence
Center for Converged TeraHertz Communications and Sensing
Center for Research on Intelligent Storage and Processing-in-memory
Computing On Network Infrastructure for Pervasive Perception, Cognition, and Action
ADA and ASCENT fall under the "horizontal" category that will carry out research in advanced algorithms and architectures, packaging, devices and materials.
C-BRIC, ComSecTer, CONIX and CRISP are considered "vertical" research centers that will work to meet application-based objectives and facilitate development of systems in the areas of cognitive computing, networking and distributed computing, intelligent memory and storage, sensor and communications.
Valeria Bertacco of the University of Michigan and Suman Datta of the University of Notre Dame will respectively lead the ADA and ASCENT centers.
Kaushik Roy of Purdue University will oversee the C-BRIC center, while Mark Rodwell of the University of California, Santa Barbara will lead ComSerTer.
Anthony Rowe of Carnegie Mellon University will administer research at CONIX and Kevin Skadron of the University of Virginia will oversee efforts at the CRISP center.
DARPA worked with nonprofit Semiconductor Research Corp. to recruit industry partners for the consortium to collectively provide approximately 60 percent of the needed funding for JUMP.
Those partners include Analog Devices, ARM, Merck's affiliate EMD Performance Materials, IBM, Intel, Lockheed Martin, Micron Technology, Northrop Grumman, Raytheon, TSMC and Samsung.