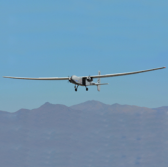 Aurora Flight Sciences has received a potential $48 million contract to continue developing twin-engine unmanned aircraft system for the U.S. Air Force.
The Boeing subsidiary said Wednesday it will build an Orion UAS variant designed to perform in any location worldwide.
Aurora will produce the system at its facilities in Mississippi and Virginia.
Orion is designed to operate for 100 consecutive hours and carry payload of more than 1,000 pounds.
Development of the medium-altitude, long-endurance UAS began in 2006, followed by the platform's maiden flight in 2013.
In 2014, the Orion broke the UAS world endurance record with 80 flight-hours, two minutes and 52 seconds.