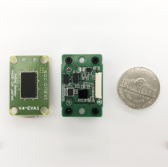 Boeing's Aurora Flight Sciences subsidiary and Japan-based Socionext have partnered to develop a radar-enabled system that will be designed to protect consumer drones from collision.
The Radar Flight Control Module will employ a single-chip 24 gigahertz radar that uses range measurement software to detect the presence, distance and speed of nearby objects, Socionext said Tuesday.
Users will be able to receive warning, braking and distance signals through a simple interface controller linked to the system.
The RFCM will be produced as a lightweight package to accommodate smaller drones.
Socionext intends to market the system commercially.