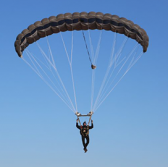 Airborne Systems of North America has won a potential five-year, $26.7 million contract to develop a parachute system and provide related reports to the U.S. Marine Corps.
The Marine Corps received two proposals for the the Enhanced Multi-Mission Parachute System procurement contract and will obligate $2.3 million on the first delivery order, the Defense Department said Friday.
Work will occur in Pennsauken, New Jersey, through Jan. 5, 2023.
Airborne Systems said Friday it will equip E-MMPS with the company's Hi-5 Ram Air Parachute, Edge harness container and STORM drogue release system, as well as an attachable military working dog harness.
The parachute system will be built to replace the Marines' current MMPS.
The company will also provide commercial manuals and training services necessary for the service branch to deploy the system.