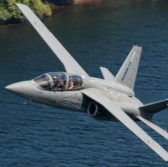 The U.S. Air Force Research Laboratory has integrated an intelligence, surveillance reconnaissance pod to a Textron-built light attack ISR aircraft to demonstrate how fast the multi-intelligence pod can be integrated on a new platform.
The Air Force said Tuesday Leidos helped install the AgilePod platform on the Scorpion aircraft as part of the fitting test at the Wright-Patterson Air Force Base in December.
The event marked the first time AgilePod was fit-tested on a commercially-built manned platform.
The AgilePod reconfigurable pod system was designed to help flight-line operators create sensor packages needed to meet specific mission requirements.
"We showed the openness of the pod by taking an aircraft with a standard set of mechanical and electrical interfaces and attaching the pod," said Andrew Soine, electronics systems engineer at AFRL materials and manufacturing directorate.