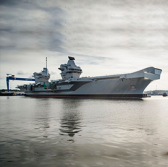 The British navy has commissioned the HMS Queen Elizabeth aircraft carrier during a ceremony held Thursday at the Portsmouth naval base in England.
The ceremony was attended by Queen Elizabeth, Princess Anne, UK Defense Secretary Gavin Williamson and other British military leaders, the U.K. government said Thursday.
HMS Queen Elizabeth was built by the Aircraft Carrier Alliance, comprised of BAE Systems, Thales Group's UK arm, Babcock and the U.K. defense ministry.
The carrier has completed the second stage of sea trials and is scheduled to complete final build activity and prepare for helicopter tests in 2018.
HMS Queen Elizabeth will also enter initial flight trials next year in U.S., where 150 British navy and air force personnel are currently training on F-35 fighter aircraft.
The Queen Elizabeth-class carrier fleet is comprised of two ships – HMS Queen Elizabeth and HMS Prince of Wales — that are designed to perform a range of missions such as humanitarian and disaster relief, counterterrorism and warfighting.