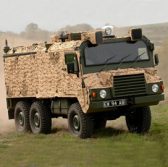 A BAE Systems-led industry team has won a potential $16 million contract to provide post-design services for three kinds of U.K. Army ground vehicle.
The British defense contractor will collaborate with Hobson Industries and Penman MW Engineering to help ensure operational readiness of the Pinzgauer, Land Rover and Light Trailer fleets, BAE said Wednesday.
The team may also perform upgrades to the Pinzgauer and Land Rover vehicles through the addition of a roll-over protection system.
BAE and its partnered will conduct work in Telford, Shropshire, over a two-year period.
"We have been successfully supporting military vehicles for decades so we have the expertise to quickly understand technical specifications and develop an effective maintenance plan for any vehicle "" even those we did not design and build," said Mark Durning, director of in-service support at BAE's land business in the U.K.