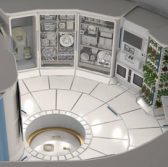 A joint venture of Thales and Leonardo has received three contracts to produce technologies that can help NASA accomplish human space exploration missions and address commercialization objectives of the agency's industry partners.
Boeing, Lockheed Martin and Orbital ATK will collaborate with Thales Alenia Space under the Next Space Technologies for Exploration Partnerships-2 initiative as part of efforts to expand architectures designed to support NASA missions around and beyond cis-lunar space as well as intended future activities in deep space and Mars, Thales said Thursday.
Thales Alenia Space will work to identify and integrate general deep space gateway architecture ideas and composing elements for a core element of the Cislunar infrastructure.
Walter Cugno, vice president of domain exploration and science at Thales Alenia Space, said the company will also work with NASA to help expand current knowledge on capacities and opportunities that can be explored in space beyond low-Earth orbit.
Thales has been collaborating with Orbital ATK and Lockheed since the NextSTEP project's inception and will begin to partner with Boeing to produce new systems that can aid NASA's Deep Space Gateway and Deep Space Transport programs.