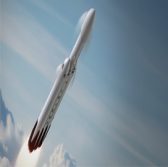 SpaceX has positioned its first Falcon Heavy rocket vertically on a launch pad at NASA's Kennedy Space Center in Florida for a test series, Spaceflight Now reported Thursday.
The report said a team of SpaceX engineers are scheduled to conduct assessments such as fit-checks at pad 39A before they put the rocket's 27 first stage engines through a hold-down firing test.
Falcon Heavy comprises a pair of previously-flown Falcon 9 rocket boosters and an updated central core stage.
SpaceX intends for its new launch vehicle to lift off in January and carry a dummy Tesla Roadster payload as part of the inaugural flight, the report noted.
The new rocket is designed to generate approximately 4.7 million pounds of thrust at liftoff.
Elon Musk, SpaceX CEO, said he expects Falcon Heavy engines to reach 92 percent of full power during takeoff.