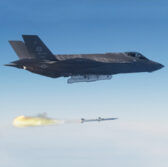 A new Stockholm International Peace Research Institute report says military arms and services sales worldwide reached a total of $374.8 billion during 2016.
SIPRI said Monday the figure reflects a 1.9 percent increase from 2015 and represents the first year of growth in arms sales since 2010.
Sales of U.S. arms manufacturers rose by 4 percent to $217.2 billion in 2016 driven by international countries"™ procurement of weapon systems and U.S. military operations abroad.
Lockheed Martin posted a 10.7 percent rise in 2016 arms sales associated with the high volume of F-35 fighter jet deliveries and the company"™s acquisition of Sikorsky in 2015, said Aude Fleurant, director of SIPRI"™s arms and military expenditure program.
The report also cited Leidos' purchase of Lockheed"™s information systems and global services business in 2016.
Weapons manufacturers in Western Europe logged $91.6 billion in total sales in 2016, a figure that represents a 0.2 percent rise from 2015 arms sales.
Germany and the U.K. respectively posted a 6.6 percent and 2 percent growth in arms sales last year.
The report noted that British defense contractor BAE Systems recorded a 0.4 percent increase in weapons sales.
South Korean arms producers saw a 20.6 percent rise in sales while Russian manufacturers experienced a sales growth of 3.8 percent in 2016.
The decline in arms sales by Japanese firms has resulted in a 1.2 percent drop in combined weapons sales of "other established producers" based in Japan, Australia, Singapore, Israel, Poland and Ukraine.